Here goes…..

Seven years ago. this very week, I decided to go on a short youth hostel holiday to the Yorkshire Dales. It was a group-organised trip, yet as soon as I joined, every member of the party dropped out, leaving just myself.Too many incidents of a similar ilk had occurred to me and I decided this time, I was not going to be deterred. I decided to go on my own. What I thought was going to be a melancholic experience, that feeling of profound alienation in a Youth Hostel during the holiday season; changed when I got talking to 3 students (2 males, 1 female) at the dinner table. It was the second night of my sojourn there. I normally have difficulty communicating with the younger generation (they usually 'take the mickey' or become abusive in a jocular way), yet these seemed to enjoy my stories of walking in the Quantocks and the humorous anecdote concerning a goat in the Pyrenees (my favourite story). They told me about some musicians called the Happy Mondays and a gentleman named Shaun Ryder (who I believe is a bit of a wag). They also appreciated the work by a young group entitled The Stone Roses. I told them that was now infamiliar with the current pop scene, yet I had heard about the hazards of the 'mosh-pit'. I did enjoy their company that night. Oh how we laughed. I saw them again the next morning, at breakfast, when they deliberately sort my presence and sat down next to me. Again, they were full of the positivity and vitality of youth. If I had only known then, that the proverbial snake was lurking in the grass. As we talked, I thought my Weetabix tasted strange, but I didn't air this concern as we exchanged pleasantries.

Saying goodbye, we parted company at the youth hostel entrance, for they were walking on to another. They kept scrutinising me as they walked down the drive-way, and one shouted for me to "Have a nice trip", I noticed that their shoulders were moving up and down. The group was convulsed in laughter. I just put it down to high spirits. Re-juvenated by the encounter, and in high spirits. I to set off in the opposite direction, my ruck-sac bobbing about on my back.
The hills seemed so green that morning, as I climbed them - so amazingly green. I thought I was seeing all things anew and for the first time. Nature literally pulsated with strange patterns and beautiful designs. The dew contained a kaleidoscope of whirling colours. A butterfly passed by, it's wings sounding like the roar of Concorde. I seemed to fly with it, such was the energy emanating from within my boots.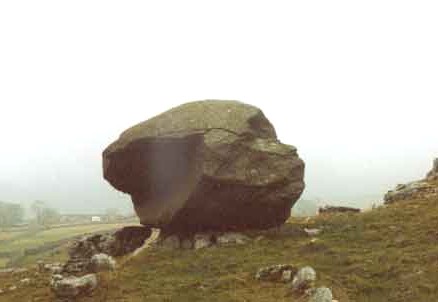 Then all became cloaked in mist, and a terrible gloom settled upon my mind. Before me, loomed a large boulder. I was transfixed by its brooding and monolithic presence, and also by a voice, coming from within the rock. It was the voice of my line manager - Tony Johnson. He was saying - "WHY HASN'T THE FILING BEEN DONE, WILLIAM. WHY HASN'T THE FILING BEEN DONE ?"

You see Rich, I had departed from the office(I am employed by a government agency) for this walking vacation, and had not finished off my filing duties, leaving it for my fellow Administration Assistants to complete. I knew they would be displeased when they saw the large amount of work I had left for them to do, yet I still did it. It was an act of selfishness, I know, carried out under the influence of an ebullient holiday mood. This disembodied voice, I believe, was my conscience calling (a similar incident happened to Ken in the "A Christmas Carol" episode, when he saw the face of a fellow impresario in his curry dish, a man called Bobby, who he had diddled in some business transaction, and was now feeling a Scrooge-like guilt).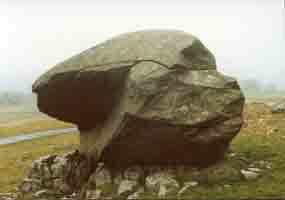 Slowly, the face of Tony came into view, emerging from the centre of the boulder, mouthing angrily the filing avoidance mantra. The stone then rose into the air and began to alter shape and pulsate.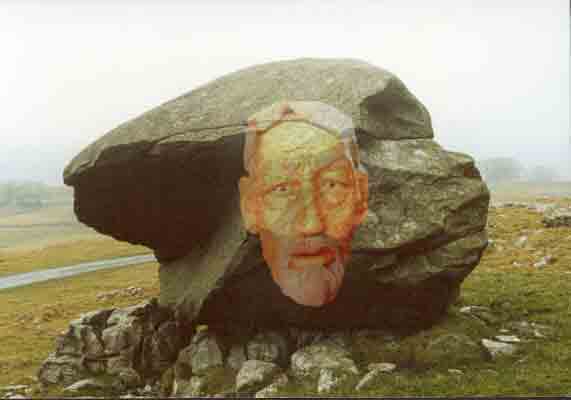 Petrified, I ran to escape this primordial chunk's aerial antics and menacing morphing. It followed me, hovering above my head, the office duty enquiry chant echoing throughout those drizzle soaked fells. In total fear. I leapt a stile and knew no more.

When I came to I was in the local police station. They said that I had been found wandering in a nearby village, minus my trousers (why they went missing, I dare not contemplate) and wearing a Tupperware sandwich box as a hat. Apparently, I had enquired at the post office about protection from airborne, stalking boulders and the police led me away. My holiday ceased from that moment. After a medical examination and a night in the cells , I was taken in a police car to the hostel, to pick up my belongings. Yes, I had,to paraphrase the desk sergeant, -"been slipped a tab of Magic-Monkey powder and taken a trip to Burble-Burble Land".
I only had one hallucination on the coach journey home. I thought the boulder was driving the coach. I tried to ignore the vision by perusing a copy of the latest Wainwright, My misery was compounded, as over the coach tannoy came the familiar refrain- "WHY HASN'T THE FILING BEEN DONE, WILLIAM. WHY HASN'T THE FILING BEEN DONE ?"
Of course there was trouble when I went into work the following Monday. Tony Johnson's head seemed strange, now it was attached to his body. I was given a verbal warning over my filing misdemeanour. Under the stress of the events of the past week and now this admonishment, I broke down and told him about the flying boulder in the Yorkshire Dales and the involvement of his head. He seemed genuinely shocked at my ill-judged use of the Tupperware container. I was put on light duties in the stationary room for a month.
If any Shuttleworth fans wish to glean a moral from this unhappy tale. let it be this: Always keep your Weetabix under constant observation when Happy Mondays fans are in the vicinity.
JUST SAY NO
to their rambler knobbling activities.

Return To William Page
Return To Main Page